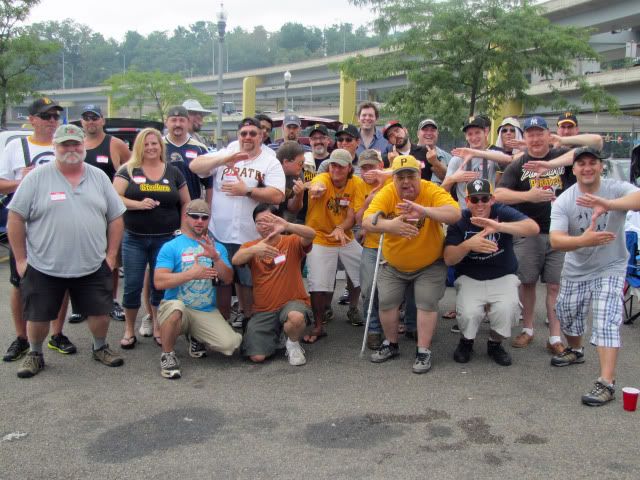 It was already two full weeks ago that we held the third multi-blog gathering in as many years. Cocktailfor2, our gracious host and event organizer, put together this fun little meetup in which members of Bucs Dugout and the Pittsburgh Sports Forum, Pirates edition could meet each other and have a grand old time before, during, and possibly after that night's game. I'm sure every individual has a story to tell, and we'd be pleased if they would tell them in the comments.
My own story isn't much to tell, really. My dad and I went to the Gathering and arrived around 3 or so. C42 led us to our little corner of heaven in Gold Lot 2...that is, as long as you believe heaven is located next to a tailgating frat house. So we arrived and we met cocktails, BurgherKing, Dr. Roxtar, Horace Clarke, and of course Charlie and WTM, et al. So we spent the rest of the time eating the food and drinking the drink. PghPinstripes brought his guitar and serenaded us with a few choice tunes. And of course since my dad was there, he took up the guitar as well and played a few. Because he plays the guitar a lot, you see.
Yeah that's all I got. The Pirates won so that was cool. It included that weird inning where they scored 5(4?) runs with no hits. You don't see that every day.
Here are some more pictures.