If Zach Duke didn't quite resemble his 2005 self tonight, at least he resembled an above-average major league starter. He threw loads of strikes and mostly kept the ball down. He even had a few battles that looked a bit like the ones that were so much fun to watch in '05, when his velocity and location were good enough to really set up batters and disarm them with logic. In the last couple of seasons, he has mostly looked as if he were trying to throw a strike and hoping for the best, but tonight, his fastball was routinely in the low 90s, and it mostly looked as if he had a plan out there. He registered an extremely impressive three-pitch strikeout of Albert Pujols--all three were fastballs to different parts of the plate, and Pujols looked completely flummoxed by the third one. 
In all, Duke threw 92 pitches and pitched six and a third, with four strikeouts and only two walks. He also hit a double and had two sacrifices.
Offensively, the Pirates had the benefit of some good luck, with a number of hits that went just over the head of Cardinals shortstop Khalil Greene. But there was also a majestic homer by Nate McLouth, and five Pirates had at least two hits, including four each by Jack Wilson and Freddy Sanchez. And other than a weird passed ball by Ryan Doumit in which it looked like Doumit and Duke got their signals crossed, there weren't any defensive flareups. (Ramon Vazquez started at third in place of Andy LaRoche, which probably helped.) Good game. 
Slightly off-topic: Is it just me or does Vazquez, pictured here--
look a lot like Ryan Vogelsong?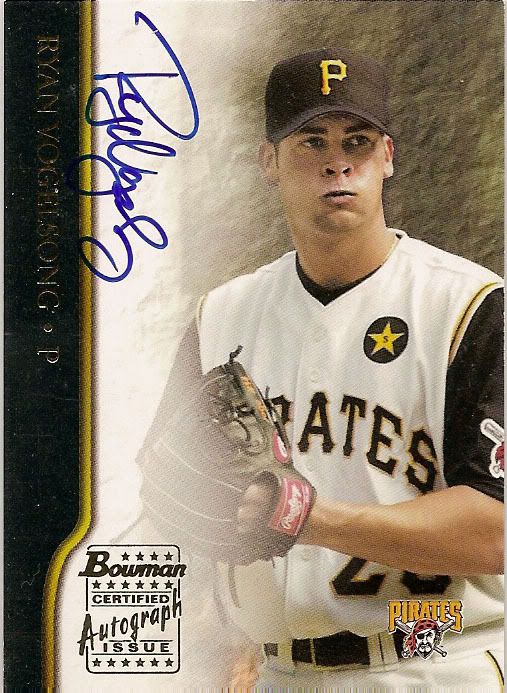 I'm not trying to jinx Vazquez or anything. Just asking.